By Rob | 7 May 2014, 02:00pm | Category: Social Media

I've been invited to attend Silicon @MilkRoundAbout this weekend. It's a great event for start ups and those who would like to work with or for them.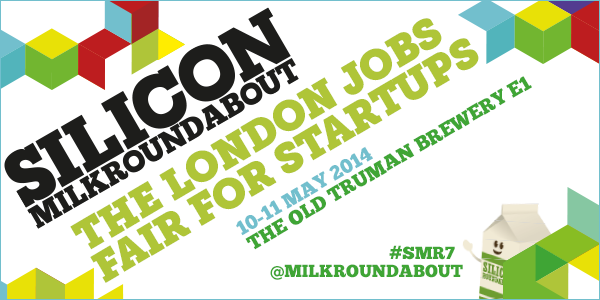 If you're interested in tech and meeting some cool people, why not join me there. And if you need a little more info, here is what the guys at @MilkRoundAbout have to say...
Silicon Milkroundabout's Startup Jobs Fair is returning to the Old Truman Brewery in Shoreditch, London on the10th & 11th of May 2014.

The jobs fair matches vacancies at 150+ of the UK's hottest startups with the finest Product Experts, Designers, Tech Marketers and Developers in London. Take a peek at the jobs on offer.

Spend an afternoon chatting informally to established startup team members over a free coffee or beer!

Apply now at siliconmilkroundabout.com for a place. If your skills match the requirements for the roles on offer, we'll invite you to come along! It's an exciting opportunity to explore working at a dynamic startup. And it's 100% free!

Follow on Twitter @Milkroundabout
Join in the conversation #SMR7
Hope to see you there...
Speak soon